Take some time to read this information before starting to use the administration of your forum:
How to download ?
Click on forum PUNJABI MUSIC ALBUMS & select album,if you could't find the Links (FOR DOWNLOAD) of the album in forum (if hidden) then click on POST REPLY and reply the topic.
after that you can see the download link of the album.
How to add the album (upload or post the topic) ?
To add album click on new topic on top then write album name & in the message area write album information ,Then click on link icon & add the link of the album ,then click on send button. SEE PICTURES BELOW...........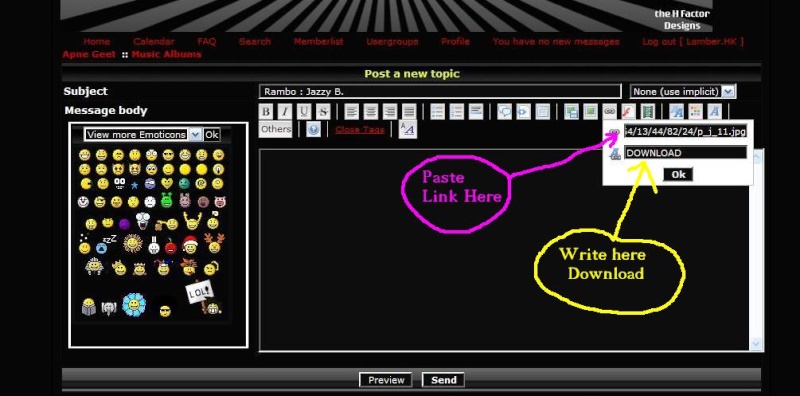 TO UPLOAD YOUR MUSIC FILES USE THESE SITES:
MediaFire
MegaUpload
RapidShare





After Upload you will be see link of uploaded files,use these links for post a album on apnegeet.
How to access your administration panel ?
In the top menu, click on Log In, a new page is displayed. Fill in the username and the password you have choosen during your registration. If you have lost or forgot it, then click on forget password.
HOW TO HIDE POSTED LINK..?
Then you posting a topic ,on the top of writing box you can see Others , select link then click on Others & select Hidden.
Thanks
Administrator
Apnegeet